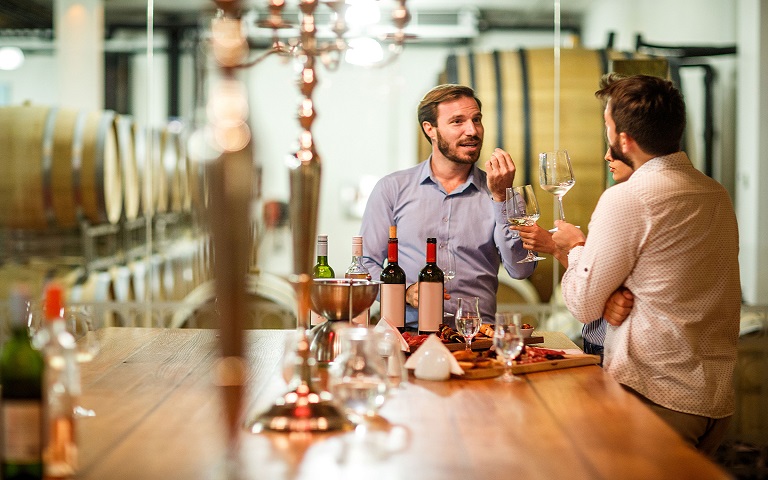 Become a partner and harness your talent!

Your business could offer wine lovers unique, unforgettable experiences.
Stand out from the competition and give your winery a triumphantly exclusive image.
Make the most of your potential and get concrete benefits from your passion for your profession!
Embrace the advantages of being a Vinodila' partner and pave the way to new channels of growth.
Benefits for Vinodila' partners

Boost direct sales
Targeted marketing and communication initiatives to attract new customers, enhance your brand reputation and make your business as profitable as possible.

Cut red tape
Get support from top specialist consultants and practical materials to help you to deal with the everyday business challenges posed by technical, bureaucratic and tax-related matters.

And most importantly ... more time for YOU
Find out the best ways to organize work flows, get better economic results and optimize time and staff management.
How does it work?

TELL US ABOUT YOU
We would like to know about your background and your local area. Tell us about your company's mission and together we can discuss how to offer exceptional experiences that revolve around your company's distinctive features.

STAND OUT FROM THE COMPETITION
We establish a clearly defined strategy for each company's selection and positioning. Make wine tourism the ace in your sleeve that gives you the edge over your rivals and share the unique, inimitable style of your winery with your guests.

BESPOKE CONSULTING SERVICES
Get ongoing support from a professional consultant. In all growth and development initiatives, we can offer specialist tutoring for front-of-house staff, in order to highlight your appeal for wine tourists.
Find out more

DIGITAL MARKETING
Benefit from far-reaching promotion thanks to optimization techniques and a strong presence in search engines. It's a great way to reach new people and spread the word about your business.

NEW CUSTOMERS
Directly manage bookings simply and efficiently. Welcome new customers and take them on a spellbinding journey through your world.

MONITOR YOUR PROGRESS
Measure your success! Constantly monitor your sales patterns and get statistics and reports on your business.
Book a free check-up
At Vinodila', we're totally dedicated to our partners because we can only be successful if they are.